How to Get Back Together With Your Ex Girlfriend
Girls... when they love you, they really love you. And when they don't? You get dumped so fast it leaves your head-spinning, wondering just what the hell went wrong.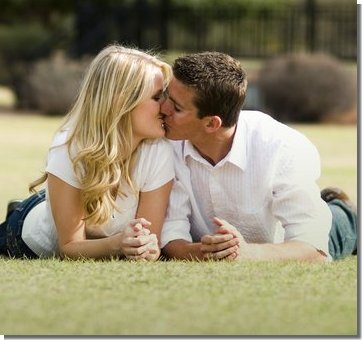 Getting back together with an ex girlfriend requires a cool hand and a confident approach. You'll see guys that can pull it off effortlessly, but you'll also see guys who just can't get it right.
The latter poor souls usually mess up any chance of future reconciliation by not knowing what they're doing. They fumble around with embarassingly pitiful acts such as begging, pleading, or stalking their ex girlfriends to the point of becoming shunned and creepy.
The truth is, you can't force a girl to love you. Along those lines, you can't force one to date you either. Yes, even if your relationship was good - and even if you were once great together - there's no way to convince or sway an ex girlfriend that she should go back out with you until one major thing happens first: she has to WANT you again.
This means that instead of trying to sell your ex on the idea of being a couple? You need to sell her on the idea of yourself. You need to show her what she's missing, if she continues forward with the idea of ending the relationship and splitting up.
To get back with an exgirlfriend, you must become the guy you used to be. This means closing your eyes, thinking back, and envisioning the person your ex once fell in love with; that charming, funny, charismatic guy that originally won her heart in the first place.
You can't focus solely on what you want, and this is a very common mistake men make. They're so obsessed with the thought of losing their ex girlfriends that they concentrate only on the end goal: getting them back. They lose sight of what their girlfriends actually want, and this is why they fail.
Instead, you need to realize that getting back together is the very last piece of a larger puzzle. Jumping to the end - without understanding your ex's viewpoints, wants, needs, and desires, is only going to end with you losing her for good.
To get her back, you have to start at the beginning and work, step by step, toward bringing her around. Right now your ex views you in a negative way, and you need to change the way she sees you before you can change her opinion of the relationship itself.
Below, you'll find all the necessary pieces of the ex back puzzle. Your job is to make them fit. Read up, because just as with anything else you attempt to do in your life, knowledge is power. The more you know? The better your chances for a successful reunion with your ex girlfriend.
---
How To Get Your Girlfriend Back: Winning Her Heart a Second Time
Find out exactly what to do and how to do it. Making your ex miss you, want you, and need you again is the biggest part of getting your exgirlfriend back.