10 Things You Can Do With Your Long Distance Lover
It's hard falling for someone who lives far away... but it happens. And when it does? You'll be looking for ways to spend time together as a couple, even when you physically can't be around one another.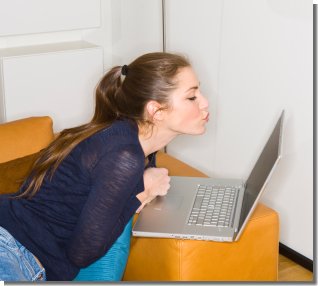 There are more long-distance or "LD" relationships today than ever before. Online dating, social networks, email, text-messaging... these things have allowed people to reconnect with old loved ones or meet and stay in touch with new ones.
With that in mind it's not surprising that romance develops despite vast geological differences, and that people enter committed relationships when they live hundreds or even thousands of miles apart. Human nature just can't be helped: falling in love is never really a choice, it's something that just kinda happens no matter where you live, or how many miles may separate you from your lover.
Finding new ways to connect is never easy as a long-distance couple. That said, there are still things you can do to keep the relationship thriving, and to spend more time 'around' your partner even when you live so far away.
Below is a list of 12 things you can do to keep your relationship juiced up and going strong, even when you can't be with your partner. Check them out, and see which ones you can apply to your own LD scenario:
1) Skype or Webcam With Your Partner
The first thing to do in a long-distance relationship is full take advantage of today's technology. This means that beyond the simple phone call, you can easily video-chat or webcam with your partner.
Adding this new level of face-to-face contact makes things a lot more personal. All it takes is a computer and an easy-to-set up web camera that you can usually get for under a hundred dollars. Check out the Logitech 720p Webcam Pro 9000
Webcams & Network Cameras available for sale over at Amazon.com
2) Watch Movies or Television Together
Aside from your favorite TV shows, there are ways you and your lover can sit down and actually watch movies together. Sitting on the phone with each other while sharing this type of experience is almost as good as sharing the couch... you'll just each have your own popcorn.
For TV, check out Hulu. You and your lover can share a subscription to watch your favorite television shows, dramas, comedies, and check out new ones as they're made available.
For movies, get a subscription to NetFlix. Aside from mailing DVD's to your home, you can now stream movies live right onto your computer or television - and onto the screen of your long-distance boyfriend or girlfriend.
And while watching these shows and movies together? Don't strain your neck or ear by holding the phone the whole time. Get yourself a hands-free headset. Most of all, make sure it's a comfortable one, such as the Logitech ClearChat Comfort/USB Headset H390
click here to check out more headset options
. Whatever you get, make sure you can wear it for hours at a time and be comfortable while wearing it.
3) Send Each Other an E-Card
Cards are great, and love notes are fine too, but if you're looking for an instant way to tell your partner you're thinking about them? Sending an E-Card is definitely the way to go.
There are plenty of free E-card services these days, Blue Mountain being one of the most popular ones around. But for some even more hilarious ones? Check out the Funny eCards at JibJab
.
They have a whole category dedicated to LOVE, and rather than choose from the usual pre-set designs you can incorporate your own photos of both you and your partner right into the cards themselves. This adds a more personalized and stylish touch you don't usually get from the standard e-card services, and it's something your partner can have within MINUTES of sending it.
4) Make a Photobook of Your Relationship
Few things are more personal and important as the times you've already spent together, so why not give your lover a way to physically remember them?
All too often we take thousands of digital photos and save them to our computers, only to never get them developed. These pictures sit on our hard-drives and get looked at every once in a while, but very rarely do they get printed or framed.
Josten's Photobooks not only makes it easy to print out your favorite pictures for any size frame, but you can make entire photobooks of you and your lover.
Each of these photobooks can be personalized to say what you want, look how you want, and feature the greatest photos of the two of you as a couple. Pick and choose book color, style, size, font type, and number of photo pages the book contains.
Make a photo book specifically themed after a trip you took together - a holiday you shared - or even just a general book containing photographs of you and your sweetheart smiling, laughing, and in each other's arms. You can have the book shipped directly to your boyfriend or girlfriend, and even send a copy to yourself so you can share it together.
5) Phone Sex (Yeah, That's Right... Phone Sex)
An obvious part of any good relationship is the physical attraction, lust, desire, and of course, fantastic sex. So if you can't be together? The phone becomes your very good friend, a sexual tool, and your next best option to actually 'being there'.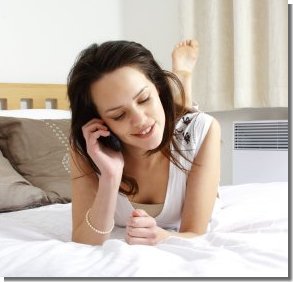 Good phone sex can be spontaneous, but many people find themselves either shy or at a loss for words when it's time to get down and dirty. You don't want to stumble over ideas or be reaching for an idea when things between you start to get heated.
If you need to, grab a pen beforehand and create a short script of the things you'd like to do (and have done to you) the next time you and your partner get physically together. This will keep you well-prepared to discuss anything and everything you both want in gory, glorious detail.
Sexually-charged phone calls can keep a long-distance relationship juicy, even when you're not able to reach out and actually touch. The sparks of attraction that brought you together in the first place must be fanned in order to keep the fire going!
And if you're really daring? Before starting on your sexy phone call, make sure she has one (or more!) of the following 10 Gifts Women Really Want: The Best Sex Toys for Her
Final words of advice: be sure to pick a time and place where each of you can be alone, unhindered, and available to do whatever you need to in order to reach the pinnacle of your conversation together. In other words, you might want to find a 'hands-free' device before making that call.
6) Send Your Long-Distance Lover Flowers or Chocolates
You don't have to be a guy to send your lover something sweet, but girls are especially thrilled to get flowers or chocolates. No long-distance relationship should be without these thrilling little reminders from time to time.
When choosing flowers, you can go with the old stand-by: roses. Red roses indicate love, yellow friendship, white for purity or loyalty, and pink roses for joy or appreciation.
Even better, forget roses altogether (they're very often too cliche') and go with a personalized arrangment you picked out yourself. This adds a more custom touch that your lover will appreciate more than something pre-arranged.
FTD Flowers is the best when sending a floral arrangement long distances. Check out their many different choices, and find something that you think would be special.
Oh, and if your girlfriend has a favorite flower, and you somehow know what it is? You're an absolute HERO. So subtly find out what that flower is, then wait a few days or weeks (in order to surprise her) before sending it.
When it comes to chocolates? Take a look at ZChocolate, an incredible French Chocolatier.
Z-Chocolate offers incredibly unique, hand-picked chocolate selections that YOU choose, box, and then send to your boyfriend or girlfriend. They ship internationally, they ship fast, and their chocolates are absolutely DELICIOUS.
The presentation you choose can be anything from a ribboned box all the way up to a wooden keepsake treasure chest. You can even personalize the box with an engraved name or saying, giving your lover something he or she can keep things in, such as letters and cards sent by YOU.
Anything and everything you can do to remind your partner of yourself is always a good thing when it comes to a long-distance relationship. When physically being with them is impossible, you have to be with them mentally and emotionally. Any connection you can make is therefore important to keeping things fresh and fun.
7) Share YouTube Videos With Each Other
You can easily spend hours on YouTube watching videos that are cool, funny, and always make you laugh. So why not share these vids with your loved one, so you can both laugh together?
Next time you talk to your boyfriend or girlfriend on the phone or through email, task them with sending you 5 hilarious YouTube videos that they think you'd like best. Do the same for them, and see if you have common interests... or even send each other the exact same video to watch.
7) Print and Send Your Partner Some Love Coupons
When you can't be together, you always look to the future. You're counting down the days, and promising to do all kinds of things when you next hook up.
These Printable Love Coupons are a great way to put those promises in writing. By printing and sending these cool little coupons, you're giving your boyfriend or girlfriend something very concrete to look forward to the next time they see you.
Categories include coupons for kisses, romance, backrubs... even sex! Choose whichever ones you want to send, and make sure to send your partner the link so they can reciprocate.
8) Send Your Lover Something Sexy to Sleep In
One of the worst parts of being far apart during a long distance relationship are the lonely nights. This is why it's crucial to make your bed a place where you can think about - and dream about - being with your boyfriend or girlfriend again.
Sending your lover some fun, themed pajamas - or even sexy lingiere - is a great way to join them in bed! While you can't physically be with them, you'll be the person they think about each and every time they get dressed for bed.
For women, check out this selection of men's silk boxers
, and while you're there look for men's themed pajamas or other cool stuff you can send your man. Ask him to wear it the next time he sees you, or even send you a photo of him modeling it once it arrives.
For men (or even women looking to surprise their man), your selection is even harder but more exotic. You can send your long-distance girlfriend everything from underwear and thongs to lingerie, baby-doll nighties, and sexy dress-up costumes for some kickass roleplaying fun.
Get some ideas from this Best Selling Sexy Lingerie
by 3 Wishes. They've got lightning-fast shipping and will help you send your lover something you'll BOTH enjoy! They usually have some great sales going, too.
Underwear, PJ's, lingerie... these things add a sensual and personal flair to any relationship, and they also leave you with something to look forward to for future meetings. Don't ignore these types of gifts if you're looking to keep things spicy.
9) Buy and Wear His & Her Sweetheart Pendants
It's always nice to keep your boyfriend or girlfriend close to your heart. One way of demonstrating you're in a committed relationship is with sweetheart or mitzpah pendants.
Normally too girly or feminine for most guys, the selection above gives some really great and masculine choices when it comes to these types of pendants. The interlocking love puzzle pieces is a very cool one, especially since the darker piece looks incredibly cool in grey steel.
Choose the one that best represents you as a long-distance couple, and show everyone that you're only one half of a much bigger whole.
10) Get Additional Help and Other Long Distance Ideas
Even the best long-distance relationships run out of steam from time to time. This isn't cause for panic however, because there are TONS of great things you can do to keep the romance going and going.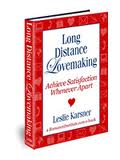 Long Distance Lovemaking is collection of powerful techniques geared toward keeping you and your loved one intimately connected.
In the army or armed forces... overseas... different countries, or states apart - it makes no difference. No matter how far apart, or how long it will be until you see each other again, these long-distance secrets will help keep your romance fresh, alive, and better than ever.
Learn how to make love last, keep your partner from straying, and gain other valuable ideas on sex, lust, and sensuality that can fan the flames of any long-term relationship, even when you're not able to be around each other much of the time.
---
Leave a Comment
4 Comments
---